---
NEWSROOM
BMB Love School launched a school construction in Pa My village
To prolong the journey of bringing knowledge to children in the highlands of Vietnam, BMB Love School Foundation decided to choose Pa My Ethnic Minority High School (at Huoi Pet 1 school site) in Huoi Pet village, Pa My commune, Muong Nhe town, Dien Bien province. Muong Nhe is a mountainous town in the west of Dien Bien province, located on the border among Vietnam, Laos, and China. It can be said that this is a vital place in terms of national defense and security of Dien Bien province in particular and the country in general. However, the poverty of the local people here is apparent, especially for children. Let's follow us to understand more about the people's difficulties here!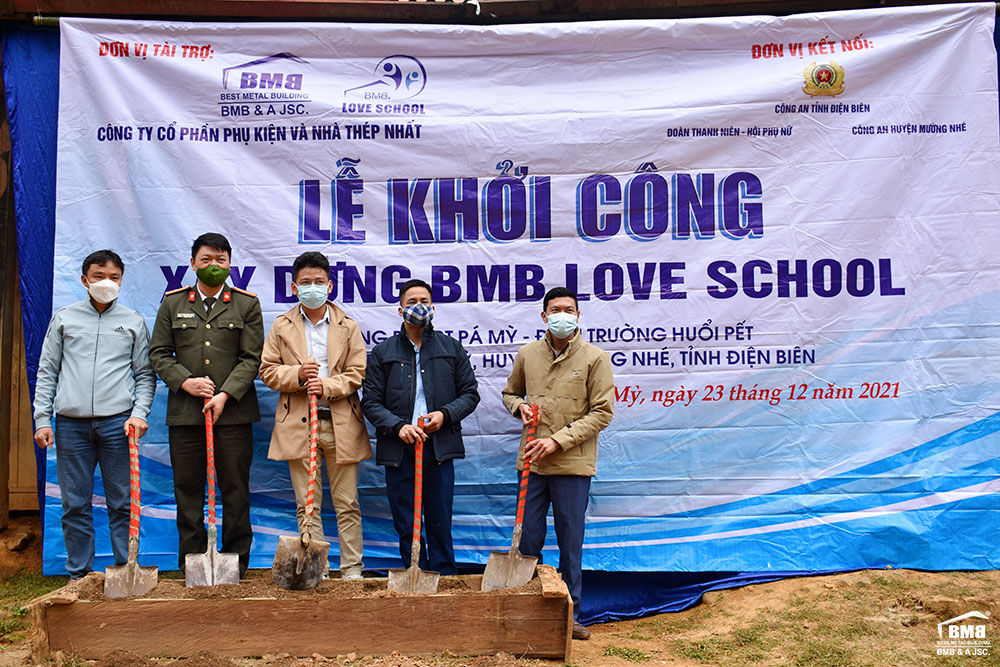 At 10:00 am on December 22, 2021, we excitedly took off from bustling Ho Chi Minh City to Dien Bien - a land with immense mountains and forest, which is an incredibly breathtaking characteristic of the Northwest. Looking down from above, the majestic scene here makes me exceedingly overwhelmed:
"Ta lạc bước giữa núi rừng Tây Bắc
Hồn đắm say bỏ mặc những muộn phiền
Ghé nơi này cảm thấy sự bình yên
Bởi thơ mộng của một miền hùng vĩ.
Núi trùng điệp hiên ngang và dung dị
Phơi ngực trần tựa ví những chàng trai
Vạt nương xanh hình cô gái miệt mài
Chăm vun xới để bông sai trĩu hạt.
("We got lost in the Northwest mountains  
The passionate soul leaves the troubles
Visit this place to feel the peace
By the poetry of a majestic region.
The mountains are proud and simple
Exposing bare chest like a beefy man
The green paddy field like a hard-working girl
Cultivate for an abundant harvest).
 
Excerpt from "Sắc màu Tây Bắc" ("Colors of the Northwest") by Hoang Vu
We landed at Dien Bien airport while looking at nature's majestic scenery from the plane. Here, we were warmly welcomed by the city's officials. At 4 pm, we followed the car to move to Muong Nhe town. Muong Nhe is about 200 kilometers from Dien Bien Phu City. The road is quite dangerous, with mountainous passes, bumpy rocks, and craggy cliffs. There are sections of the road that are very narrow, just enough for one vehicle to pass through. The sun gradually disappeared, and the darkness covered the whole forest, but we were still quite far from the destination. Not until 9 pm, we reached the Muong Nhe's People's Committee. Because it was already dark and we traveled a long way, we decided to rest here to get back for the journey to the school site of Pa My commune.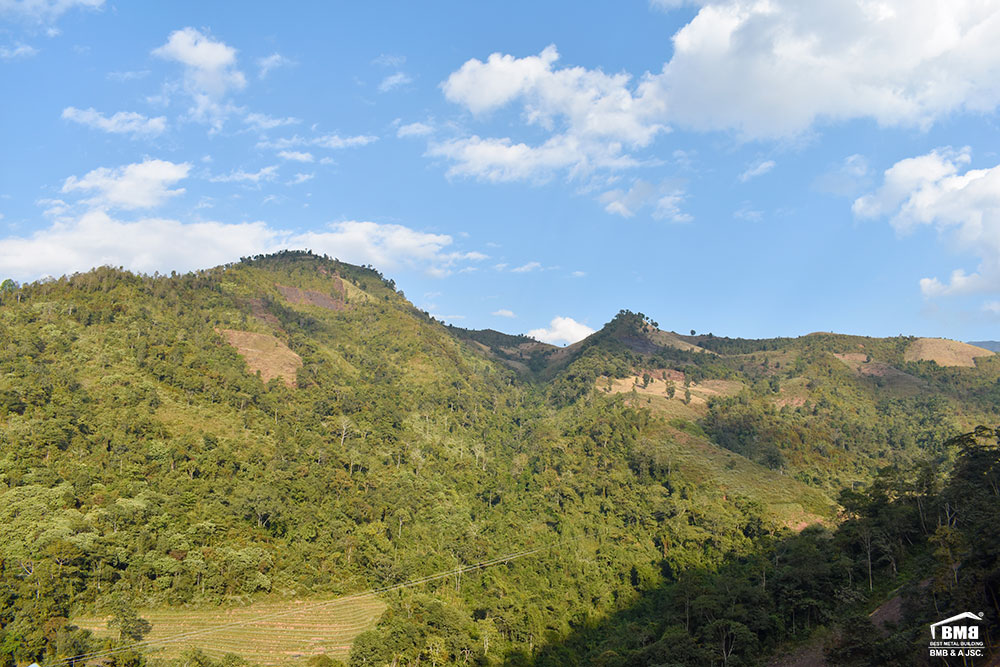 The next day we got up very early to get to Pa My Primary Ethnic Minority School on time for the commencement ceremony. After more than 2 hours on a bus to Pa My Commune People's Committee and 40 minutes on a motorbike to move to the school site, we genuinely understand more about the difficulty in commuting of people, teachers, and students here. There are no straight asphalt or concrete roads, the roads to the school of teachers and students here are in the mountains and forests; thus, it is perilous and difficult. They had to climb passes, wade through streams, cross swamps under the cold weather of 10 degrees. On the way, we saw children carrying fire to light a fire in the middle of the road to warm up in the freezing cold of the Northwest weather. These experiences suddenly reminded me of a few lines in Quang Dung's poem Tay Tien:
"Dốc lên khúc khuỷu dốc thăm thẳm,
Heo hút cồn mây, súng ngửi trời.
Ngàn thước lên cao, ngàn thước xuống,
Nhà ai Pha Luông mưa xa khơi."
("Sinuous slopes, deep slopes,
Being at a solitary place with a gun.
A thousand feet up, a thousand feet down,
A house in Pha Luong appears vaguely in the rain"
The small school in the middle of the forest gradually became more evident. "We're here!"- the official's voice sounded proud; I breathed a sigh of relief after a series of emotions ranging from fear, excitement to surprise throughout the way to the school site. Those emotions must be rare for anyone to experience like us. Indeed, you have never tried to go on a road just enough for a motorbike to pass. On one side is a cliff and on the other is a small path; it is hazardous. With just a little carelessness from the driver, we could fall off the cliff at any time. However, with the aim of bringing knowledge to the children, we still tell ourselves, "Together we build a better future" for them, which also strengthens us a bit.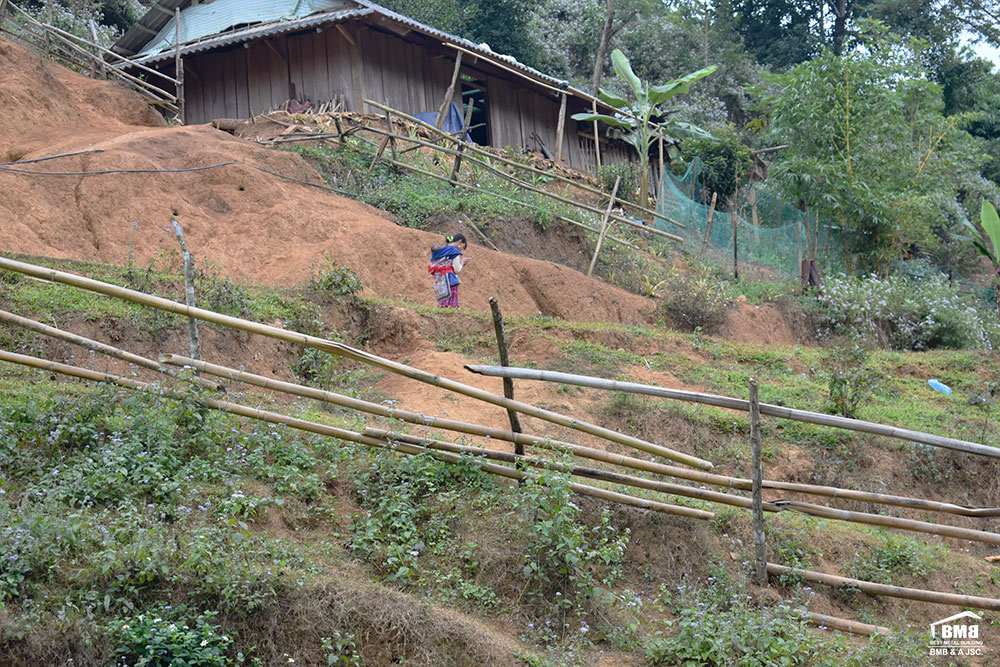 The school is so peaceful because of the green forest, the fresh air with a bit of the chilly winter. Not being kept by the cold in the classroom, the children still roamed around in the yard. Some children play on the "swing," others play catch. The swing is made of wood, bamboo, rope and looks somewhat unstable. It was created by crossing a wooden tree onto two pomelo trees growing side by side to make a crossbar and using ropes threaded through a large bamboo tube to make two swinging chairs.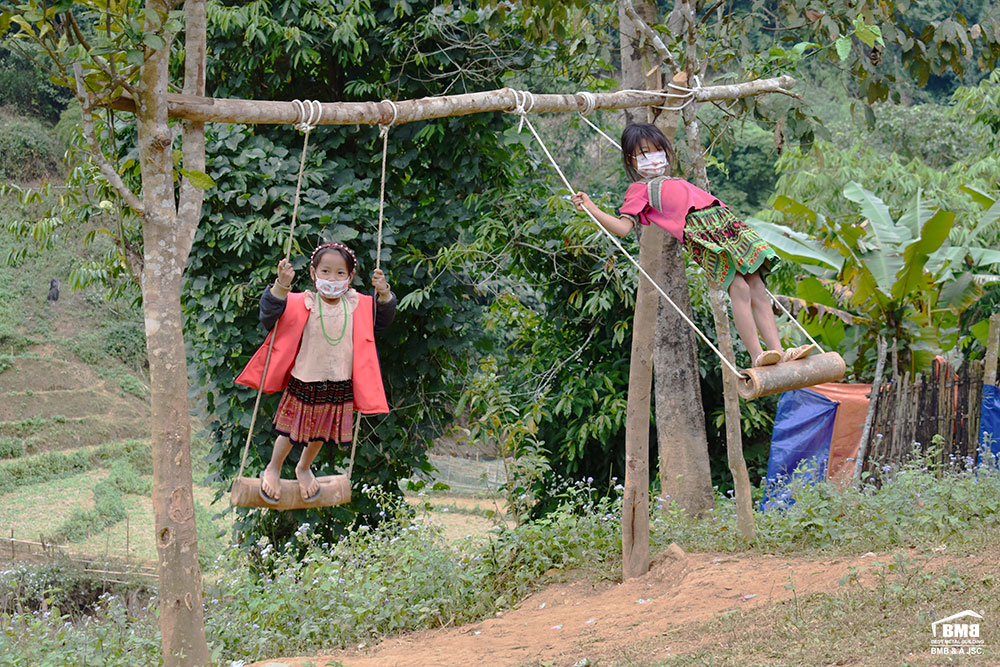 There are currently more than 20 students here, the authorities of Huoi Pet village have built temporary wooden classrooms for them to study, but there are signs of decay and unsafety so far. The classroom's equipment, such as blackboard, tables, chairs, etc., are all ancient. The round electric bulb is not sufficient to light up the whole room. We wondered how a classroom like that would be shielded enough for teachers and students to focus on teaching and learning together in the rainy season or the hot sun. We really appreciate the teachers here. They are so great and noble when they give up a comfortable life in the plains to come here and bring literacy to the children of the highlands - children who were born with many disadvantages because of their lack of material resources mentally and physically.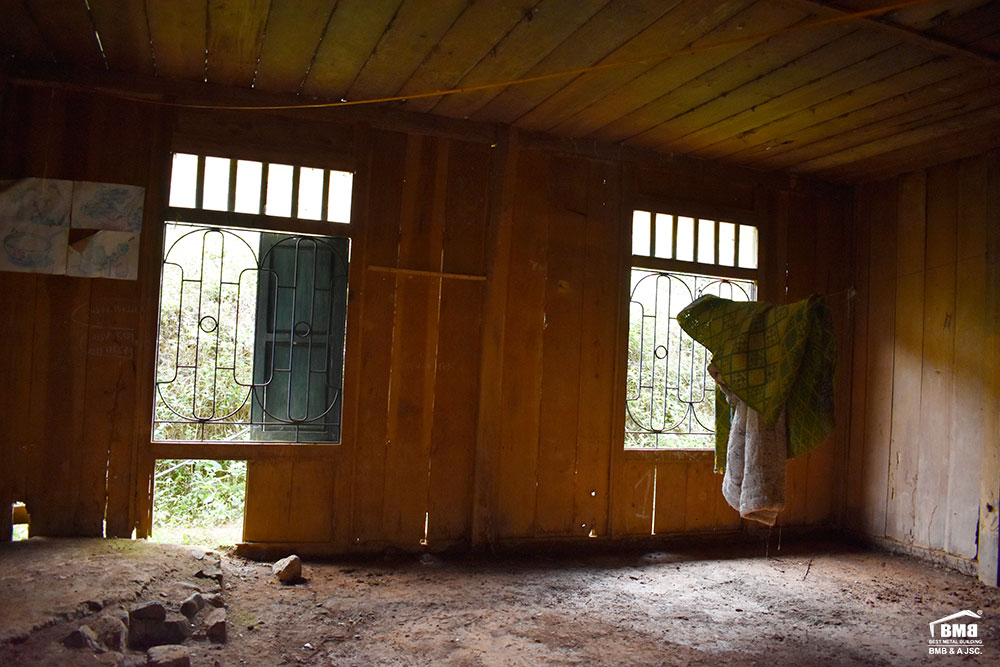 Witnessing by our own eyes, we truly understand how difficult the life of our people in remote areas is. It completely contrasts with the majestic natural scenery that we have seen before. The village is far from the city center, traffic is unfavorable (the roads here are mainly trails). Especially in the rainy season, the road becomes a thousand times more difficult. The population is mainly Mong ethnic people. This is a particularly difficult village of Pa My commune, Muong Nhe town. People live primarily in farming and terraced fields. They live in makeshift houses on the hillside; life is exceedingly difficult when the electricity and water here are unstable. Life is hard to make a living, food and clothing are not enough, how can we take care of our children's education? Meanwhile, acquiring knowledge is the only way to help them have a better life.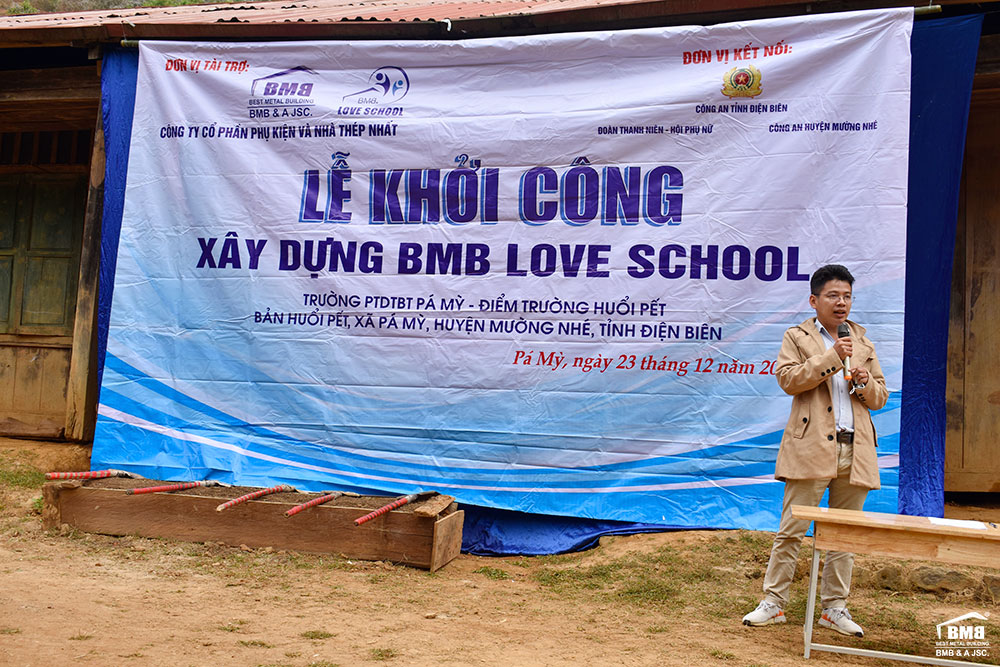 We believe that all children have the right to learn and develop in an excellent educational environment under the care and protection of everyone. Therefore, after surveying and visiting the local situation, we - BMB Steel decided to start constructing 2 classrooms and 1 toilet at this school. The total investment cost of this project is 550 million VND (partially funded from the BMB Love School Fund and the rest from social sources' donations). The construction ceremony took place on December 23, 2021, with the presence of the police of Dien Bien province, the police of Pa My commune, officials in Muong Nhe district, and the teachers and students of the Pa Commune High School, Huoi Pet School 1.
At the end of this meaningful journey, we returned to the hustle and bustle of Saigon. However, life images in that remote village are always in our minds. We hope that upland people's living and learning conditions will be more complete shortly.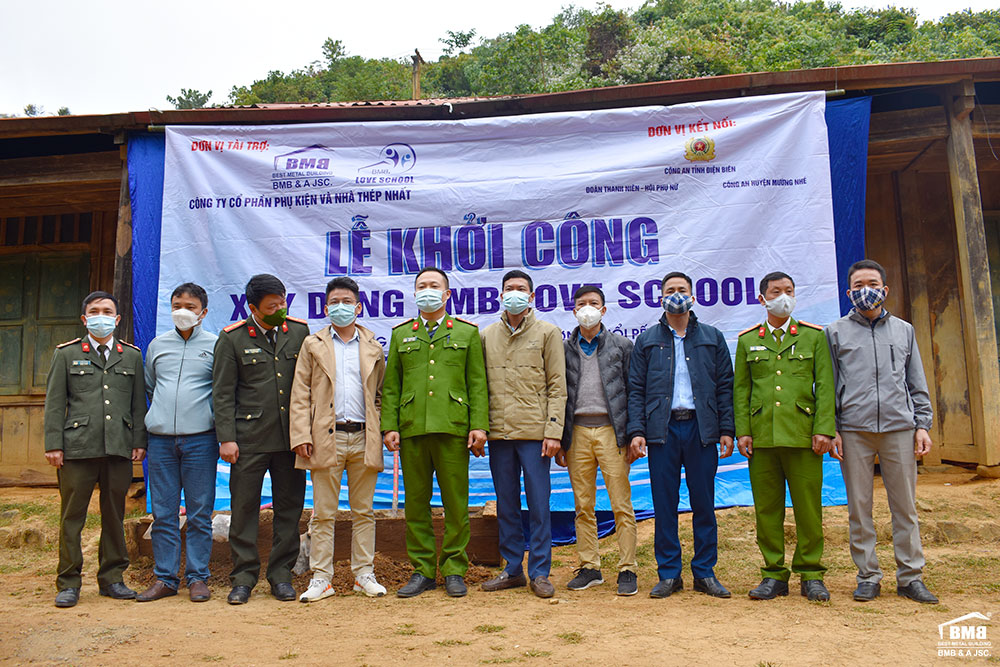 With the mission to help children in Vietnam in particular and Southeast Asia in general, to study and absorb all knowledge, BMB LOVE SCHOOL hopes that they will have a good life, opportunities to maximize their potential. We play a small part in building a good environment where every child receives a complete education and stable upbringing.