---
NEWSROOM
Sample drawings of 100,000m2 industrial factory in 2022
The first step to building an industrial factory is to have an accurate and meticulous drawing. Are you a business that needs to refer to drawings to build an industrial factory to expand your business scale? BMB Steel will introduce you to the 100,000m2 industrial factory drawing sample in the article below.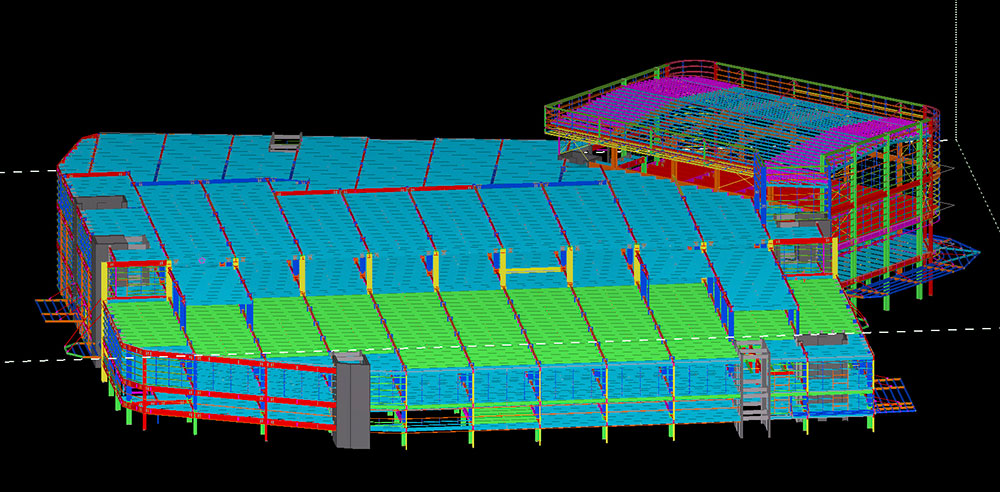 1. What is an industrial factory design drawing?
Design drawings of industrial factories are one of the factors that determine the quality and efficiency of factory use, including detailed parameters of structure, size, specifications and welding seams that allow fabrication of building factory components.
During the construction process, the staff will follow the instructions on the factory design drawings. It plays a vital role to help businesses realize their business goals.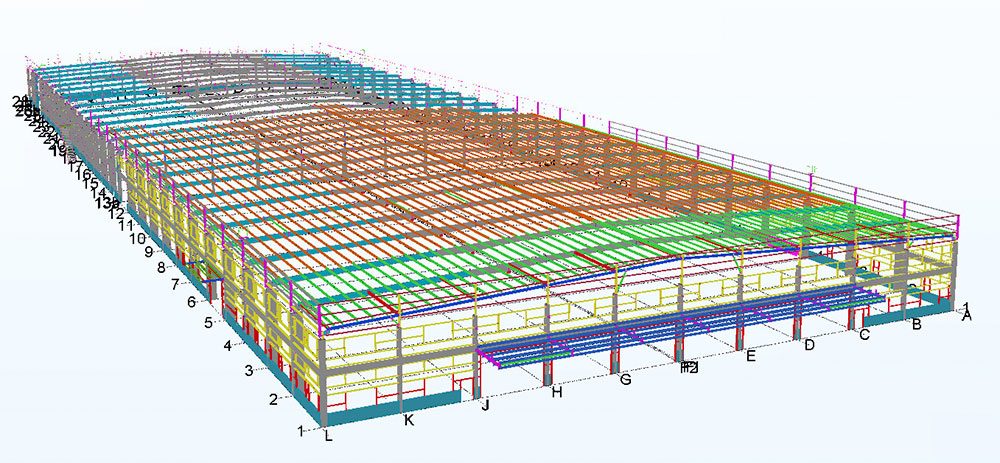 2. Industrial factory structure 100,000m2
The industrial factory 100,000m2 builds with a pre-engineered steel frame. Basically, divided into 3 structural layers:
Main steel frame structure

: Fixing the factory, setting up truss columns to cover the factory.

Secondary structure

: Using roofing sheets, transferring the force to help the mainframe reduce the weight, placing and laying wood tiles for the wall.

Roofing sheet

: Helps to insulate sound and heat between factories in an industrial park, preventing factories from fires and explosions. Besides, it helps to create a closed space and an airy and clean working environment.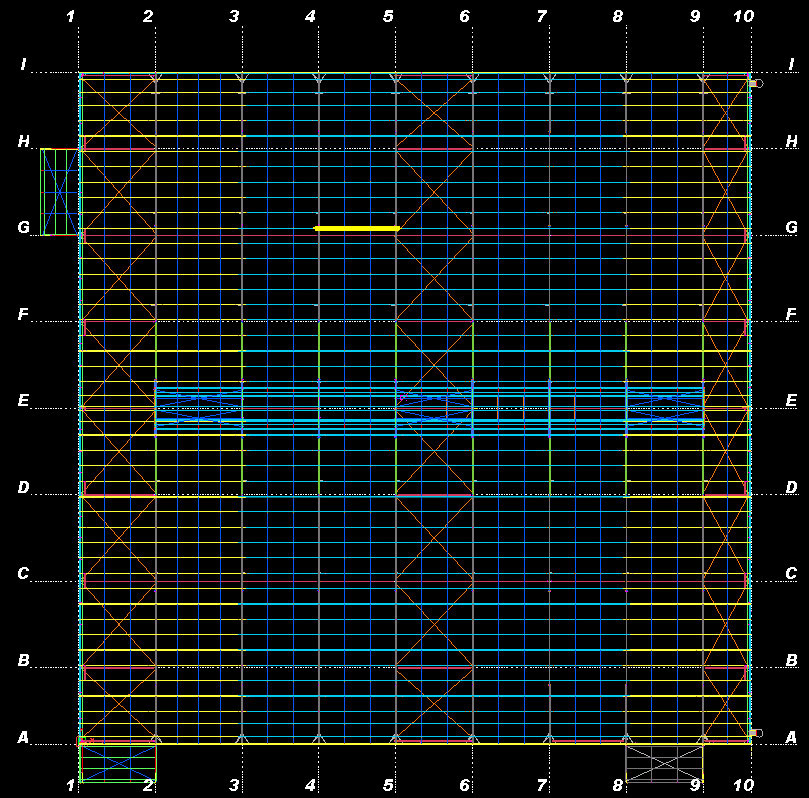 3. Important notes when designing 100,000m2 industrial factory drawings
Drawings need to ensure complete and detailed data to avoid errors during construction. In addition, these figures must be measured and calculated carefully to be close to reality and strictly comply with the current construction regulations of the state.
Investment owners should also consider choosing an experienced and reputable designer so that the drawings are designed in the safest, most straightforward, and most accurate way.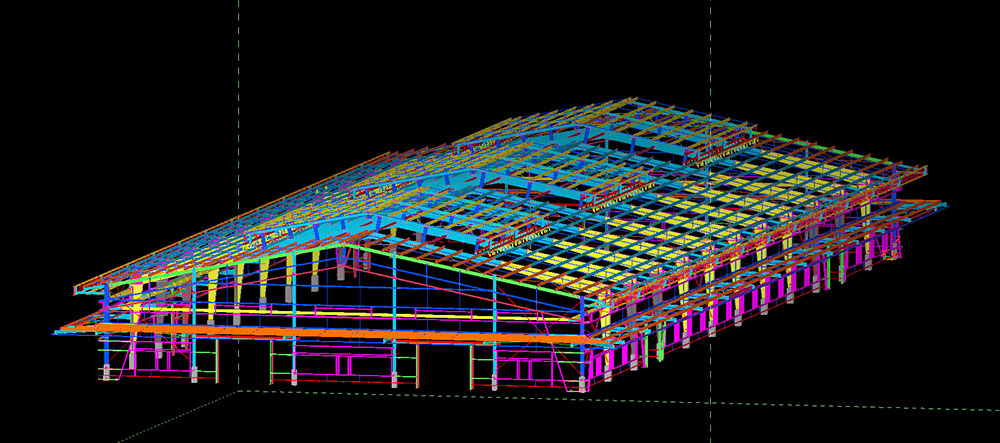 4. Business scale suitable for industrial factory model 100,000m2
Enterprises can consider choosing this factory model when:
Large scale enterprise.

Business enterprise with a large amount of investment

The enterprise has a professionally invested production line and large workforce (over 500 people).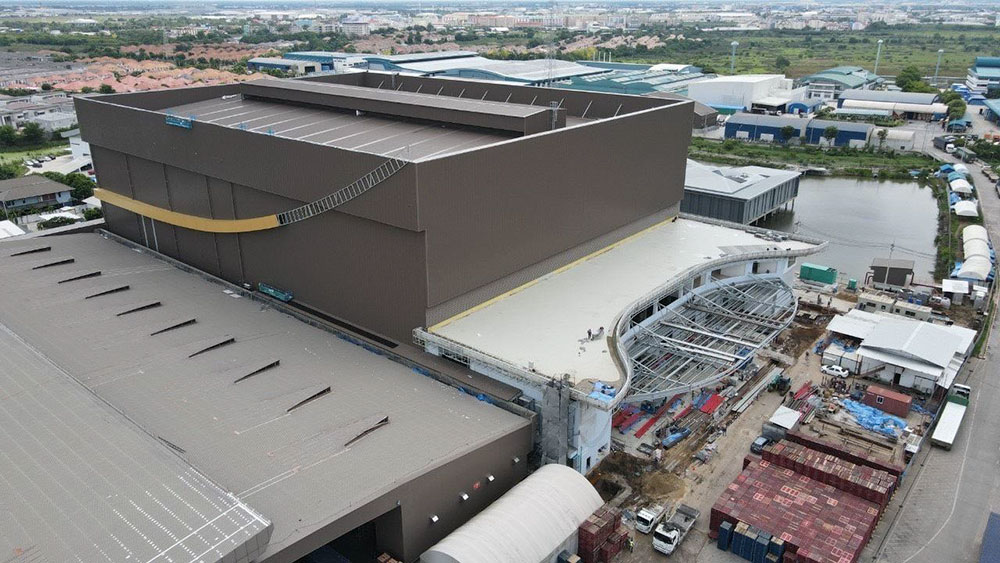 5. Advantages when building an industrial factory of 100,000m2
Outstanding features when building a 100,000m2 factory:
The operating space is spacious, flexible to use, and changes the space according to business purposes. In production, it is easy to meet the supply and demand for the market.

It can be used as a warehouse with high aesthetics. Besides, it is easy to transfer and rent.

Merchandise is neatly displayed, which attracts a large number of customers to order products in the industrial park.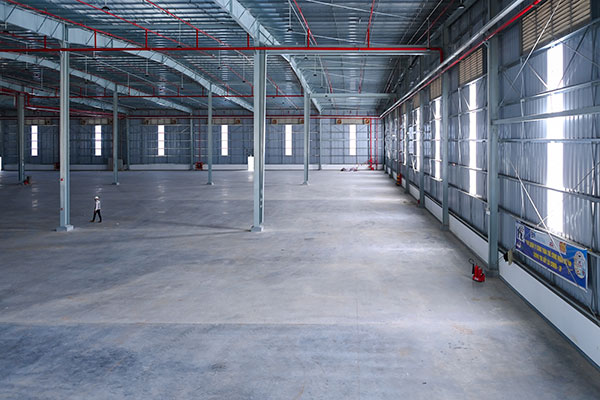 6. Complete 100,000m2 projects industrial factory drawing sample
Below are pictures of samples of 100,000m2 industrial factories that are widely prevalent that businesses can refer to.
NOX Asean PVC Floor factory
Area: 100,000 square meters.
Location: Nhon Trach, Dong Nai province.
Investment owner: NOX Corporations.
Contractor: BMB Steel.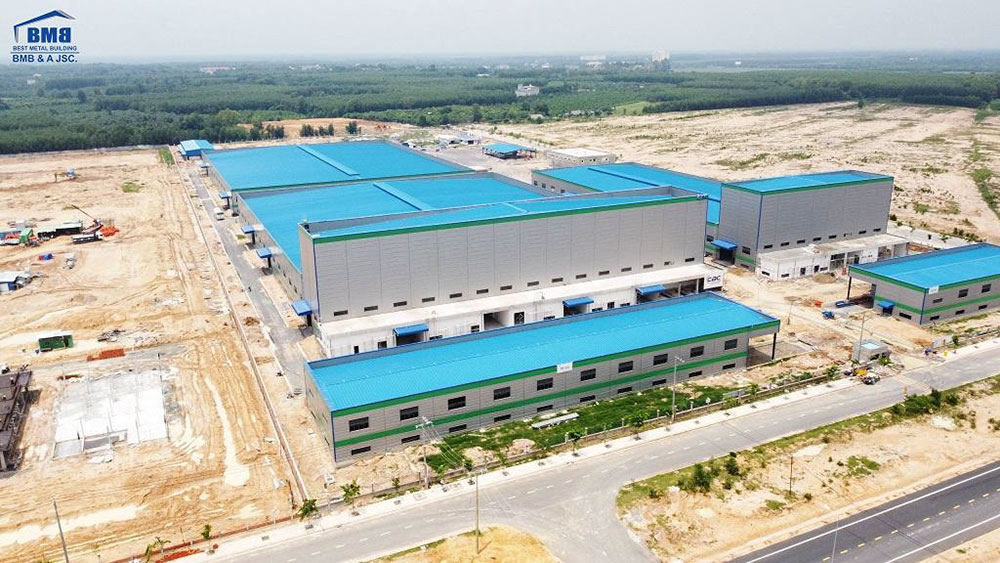 The factory was built with the goal of being a source of supply for the PVC flooring product chain in Vietnam and many other countries. In just 40 days, BMB Steel's staff worked at total capacity to complete the entire NOX Asean PVC Flooring Factory. In each project, BMB Steel always brings construction quality. Works and safety factors. Up to now, this factory has been put into operation and performed well as a high-quality factory.
7. Notes when building an industrial factory of 100,000m2
The factory is not only a very large-scale project but also plays a crucial  role in the operation and production process of the enterprise. Businesses should note the following before construction:
Carefully consider and preserve construction materials

: Because materials are a decisive factor in the quality of the factory, businesses need to check carefully and make sure about its materials and types so that no problems and unexpected errors happen. In addition, the materials also need to meet high standards and be eligible to be deployed.

The foundation

: The most crucial part of the factory, which needs to be solid and durable. It is usually made of reinforced concrete. Enterprises need to estimate the tonnage of equipment and machinery and the number of employees to determine the foundation structure. If the factory is built on soft ground, it is necessary to reinforce the foundation.

The floor:

Depending on the size of the business and the tonnage of equipment and machinery, the thickness of the concrete foundation will range from 10, 20, 30, or 50cm. When finished pouring concrete, we should paint an epoxy layer on the floor to prevent dust and be easy to clean.

Columns, trusses:

It is necessary to carefully calculate the number and size, avoiding the case of excess or shortage.

Bracing

: Increase the connection of parts of the building.

Flexible adjustment:

monitor machine specifications, rotational speed, wind machine, and concrete thickness for better performance.

Ensure labor safety for workers:

Fully equipped with protective equipment to avoid accidents.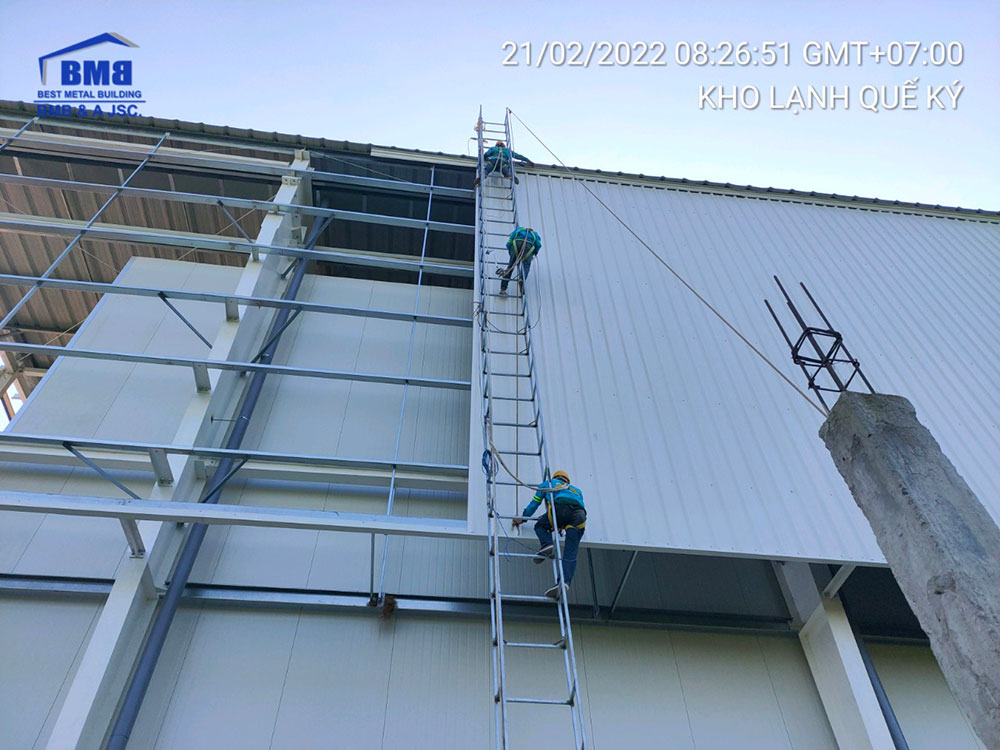 The above article is the necessary information about the design of 100,000m2 industrial factory drawings that BMB Steel offers. We hope it will help businesses consider and choose to build a suitable factory for business purposes. Please contact the BMB Steel team for support and advice if you have any questions.