---
NEWSROOM
EXPAND PROJECT OF SIEM REAP INTERNATIONAL AIRPORT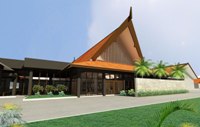 Siem Reap International Airport is the airport serving Siem Reap, Cambodia, a popular tourist destination owing to nearby Angkor Wat. It is the busiest airport in Cambodia in terms of passenger traffic.
With the number of tourist passengers always increase year by year, After extension 1st phase – end 2007, The Cambodian government has plans to enlarge the airport since 2008, and Up to the end of 2011, it started to construct. Archetype Group developed this phaseout. It was designed for an extension to the International Lounge Departure of its exiting boarding area and boarding lounge to hold 1000 passengers at any time.
BMB Steel has been chosen as the single supplier of structural steelwork with a total of 250 tons. Our production catches on all aesthetic; this is a harmonious combination between model steel structure and traditional Cambodia Architecture, accordingly. This extension phase was completed within 4 months' insist on engineering design, fabrication, and erection.
Besides SiemRieap Airport Project, BMB Steel also had done of Can Tho International Airport, Air traffic Control, VHP of Tan Son Nhat Airport Terminal.