---
NEWSROOM
Detailed notes when constructing mechanical factories
Building an industrial factory is a goal that many Vietnamese enterprises aim to expand their production scale. However, it is essential to carefully figure out the implementation process to make the construction smooth and successful. Hence, what should be paid attention to when building a factory, let's follow the following article with BMB Steel!
1. Significant criteria in building a mechanical factory you need to know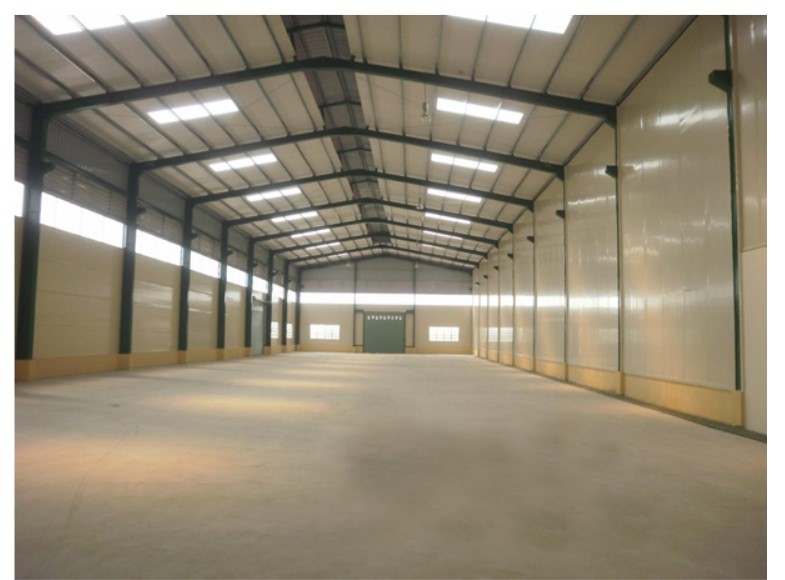 The first criterion is an appropriate location. The mechanical processing facilities must be placed in appropriate conditions to anticipate environmental impacts. The internal structure of a mechanical industrial facility must be carefully constructed with durable materials. Besides, it should be maintained, cleaned, and disinfected regularly.
In particular, when building factories or warehouses, an appropriate place is the key factor to ensure construction standards. Surfaces of walls, partitions and floors must be carefully constructed with non-permeable and non-toxic materials.
Walls and partitions should have a smooth surface to be suitable for operation. The floor should be constructed to be easy for draining and cleaning.
Ceilings and fixtures above should be designed and constructed in an effective way to minimize the accumulation of dust and water condensate, as well as the possibility of their fall.
Windows should be designed to be easy to clean. Thus, this helps to minimize dust accumulation and where necessary, we should install removable and cleanable insect protection systems.
Doors should have a smooth, impervious surface that is easy to clean when necessary. Surfaces in direct contact with mechanical products should be strong, disinfect, durable, easy to clean and maintain. They should be made of smooth, impervious material and disinfecting agents under normal conditions.
2. Mechanical factory design process 
Preparation phase:
All industrial factories must have a construction permit, except for those exempted by state regulations. Therefore, in order to be licensed, it is mandatory to prepare all design documents and related documents according to the requirements specified in the 2014 Construction Regulations.
Applications submitted to local authorities for review will be responded to within 20 days. If a construction permit is granted, the investment owner will conduct the selection of a construction contractor. The final preparation step is the signing of a contract between the investment owner and the contractor.
Time for building:
Construction materials are often used when building mechanical industrial factories such as steel, corrugated iron, and brick.
The process of building a mechanical industrial plant includes 9 steps as follows:
Landfill.

Position, measure, nail.

Fabricate structural steel frames.

Install the steel frame.

Install factory roof.

Build a wall around.

Install electrical equipment, internal machinery systems.

Install the concrete foundation.

Complete.
This process is carried out by the competent authorities to verify the quality of the buildings before being put into use. The acceptance test will evaluate the following 3 factors:
Acceptance according to the building's categories.

Acceptance in stages.

Acceptance of usage categories.
3. Vital requirements in the factory construction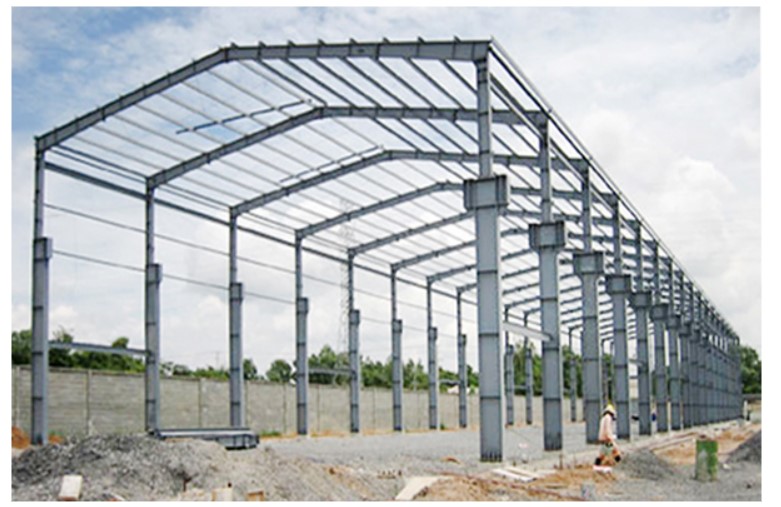 The steel  frame
When a business has a demand for building a mechanical factory, there are many requirements to pay attention to ensure the project's quality. The specific requirements in the construction of mechanical factories are as follows:
Arranging the master plan in a reasonable way
If a mechanical manufacturing enterprise needs to build a pre-engineered factory to produce mechanical products, the first thing the construction contractor is required to do is arrange the master plan so that it is suitable for the use purposes.
The factory construction dossier needs to be fully prepared in terms of information about the construction site, the program, the production model, the number of workers, etc. How should areas and sections be laid out? Only then will the contractor know how to make a reasonable layout drawing of the total ground.
Understanding the building materials
When building, learning construction materials will actively help you recognize and choose high-quality building materials. In addition, the types of construction materials currently on the market have different prices in each place.
Therefore, you should consider how to build your business's mechanical factory in advance to appropriately invest to choose the right materials with the most optimal price. The most crucial building material for mechanical manufacturing in pre-engineered factories is steel and corrugated iron roofs. Moreover, a floor combined with a concrete floor is the best construction option for the project.
Having knowledge of the mechanical factory construction process
In addition to preparing the conditions for the application, procedures, building materials, etc, mechanical business owners need to know the process of building mechanical factories.
Thus, the project monitoring will not miss any important steps. When the project is completed, you will be more proactive. If there is an error, you can suggest the contractor fix or repair it.
The mechanical factory construction process basically has the following stages as follows:
Site survey, topography, construction research.

Prepare detailed design drawings.

Machining, design of parts, steel frame, etc

Proceed to assemble the rough part.

Finish the cover, edit, and paint the project.

Find out a reliable industrial factory construction contractor.
The most vital thing to note for businesses is to figure out reputable and quality pre-engineered steel factory construction companies. A reputable construction company will be the most effective solution for you to have a factory project with high production quality.
To evaluate and figure out an appropriate contractor, you need to find out the following information:
Legal information, fundamental information about the contractor such as location, establishment history, construction projects, etc

Feedback from customers about projects built in the past.

Find out construction prices, and compare them with other contractors in the market.

Refer to the information on the contractor's website to receive the necessary advice.
4. Fundamental requirements for industrial mechanical factory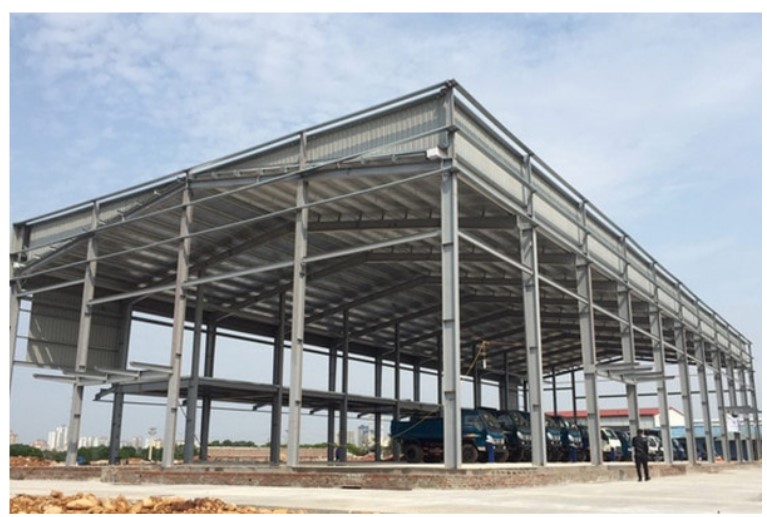 Here are some requirements for the industrial mechanical factory for your references:
Ensure the scale, volume, area, space height, ground structure, working area, machinery, etc are in accordance with the standards.
- Must be tall, bright, take advantage of natural light and ventilation.
- Must have good soundproofing and anti-vibration to prevent outside noise
- Must be well insulated to resist heat in summer and retain heat in winter.
- Must ensure the strength of bearing under the effect of working conditions.
- Must have an easy opening and closing structure, creating favorable conditions for workers to stand on the production ground.
5. Models of small-scale mechanical industrial factory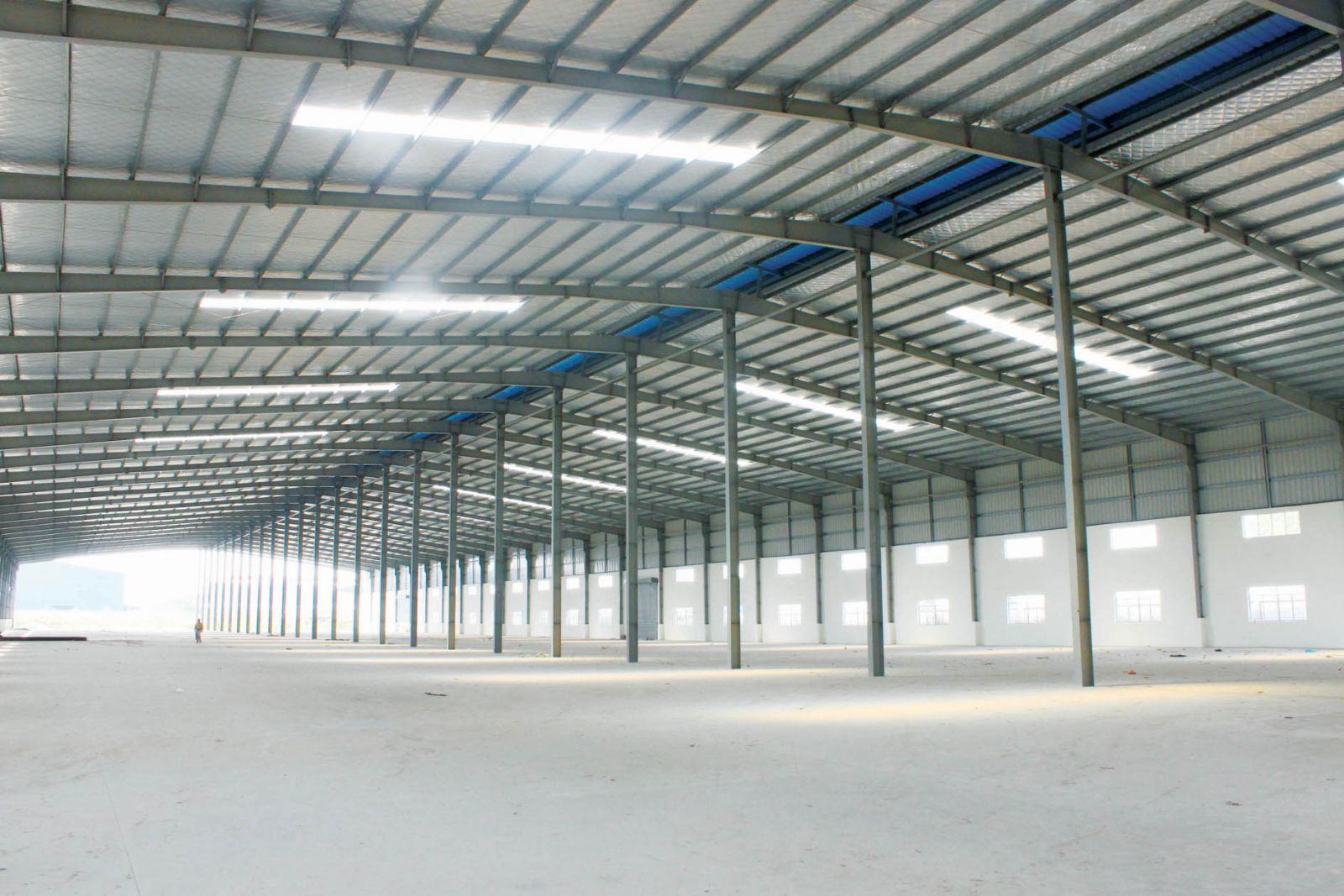 Small-scale factory, corrugated iron roof with steel frame.

Small-scale factory, transparent corrugated iron roof.

Small scale factory with many windows.

Small-scale factory, narrow walls combined with a corrugated iron roof.

Small-scale factory, steel frame, high wall.
6. Model of large-scale mechanical industrial factory
A large-scale industrial plant is a mechanical factory, a metallurgical plant or a factory that manufactures large-volume machinery and means of transport such as automobiles, ships, etc. Therefore, large-scale factories often installed automatic systems of machines, conveyors and cranes to support production.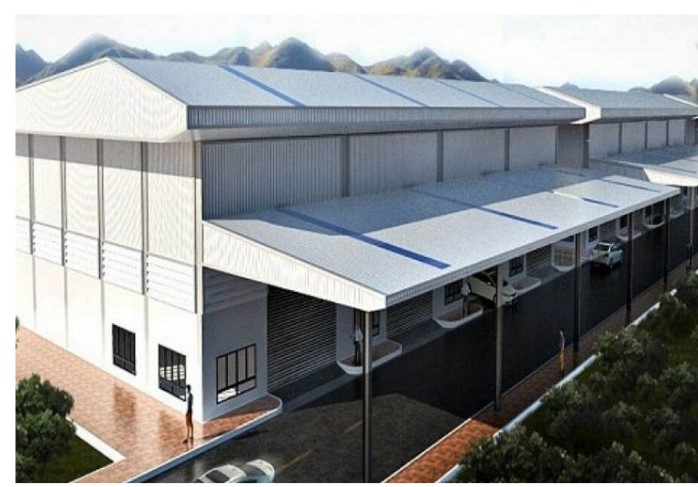 The article above is detailed information about notes when building a factory. Hopefully, everyone will have useful experiences and knowledge for their own projects in the future.