---
NEWSROOM
How much does it cost to build a factory?
Building and constructing factories at a reasonable price is what businesses are concerned about. How much is it to build a factory? What do the material and labor cost? The solution for these questions will be mentioned in the article below from BMB Steel.
1. Construction and building factory process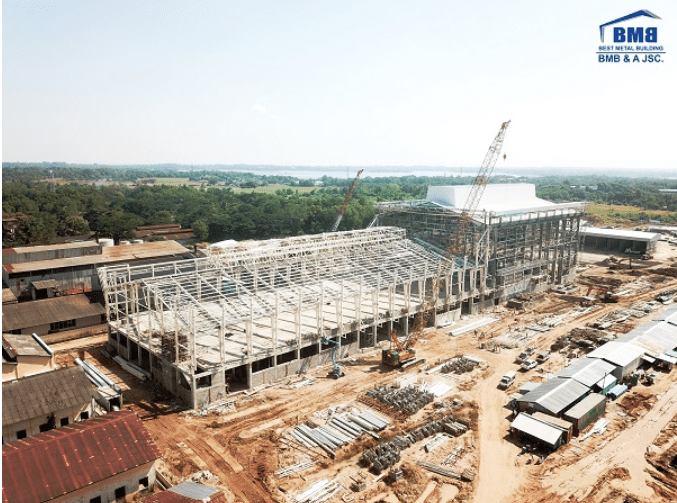 The construction of a pre-engineered factory go through the following stages:
Design
Design preliminary drawings

Design detailed drawings on the software for the project's demonstration
Manufacturing 
Import raw materials

Material checking and grafting

Manual welding, automatic welding of materials

Grinding materials, straightening

Inspect and clean components
Erection
Positioning anchor bolts

Install truss frame, structure

Roofing and accessories

Finishing the frame and the wrapping structure
Acceptance the construction
Acceptance of the construction must check the whole system

Ensure safety and quality as outlined in the drawing
2. Factory construction costs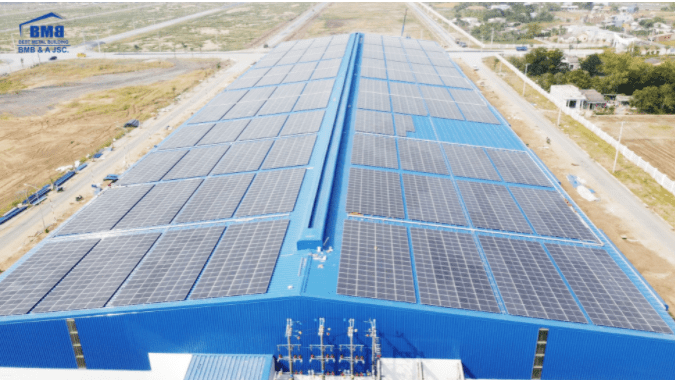 To build a factory, it is essential to invest in these categories:
Raw materials

Labor

Costs for machinery, construction options

Additional costs for incurred services such as security, water, and electricity use
3. Factors affecting factory construction cost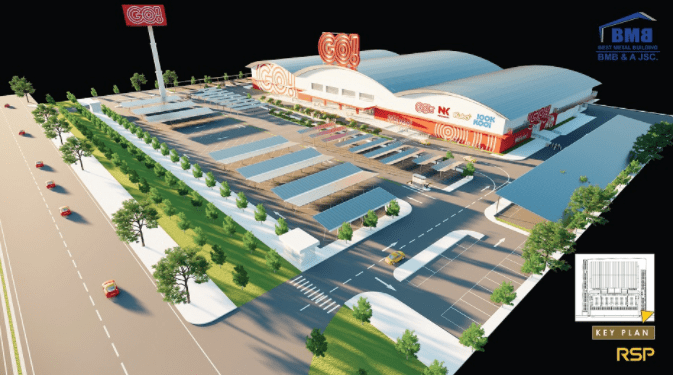 3.1 Functions of the factory
A significant factor that businesses need to focus on is the purpose of the factory building. For instance, a factory used as a warehouse will have a different design when compared with a factory used as a company, restaurant, or construction site. Each function requires different design and construction materials. This directly affects the cost of investing.
3.2 Location 
The construction location is the next factor affecting the cost of building. For example, if the location is flat and convenient, it will be easier for the constructor to move materials. In contrast, a rugged and winding location is difficult for transportation. Thus, it is required to invest more money in building roads and other infrastructure options. 
3.3 Scale of factory construction
The m2 unit calculates the cost of factory construction. The larger the scale of the pre-engineered steel factory, the higher the construction cost. The construction scale should be designed to be suitable for the functions and using purposes.
3.4 Factory model
Designing a simple factory model only needs a moderate amount of money. If you demand to have a sophisticated factory model with many details, the cost will be higher.
3.5 Materials
Construction materials input is required to be high-quality. Construction with high standard materials is an indispensable factor for building safe and gorgeous factories.
3.6 Factory construction time
Generally, the construction time affects the cost of the factory. Every year, by virtue of the influences of the economy, the price of raw materials fluctuates dramatically. The price of pre-engineered steel has been up and down, making it difficult for businesses to invest in construction. In addition, to determine the construction cost and time, it depends a lot on the weather. The beginning of the year is usually a favorable time for construction.
3.7 Requirements in factory construction
Factory construction needs to ensure the building and implementation progress on the contract between the owners and contractors. The delays in the building may cause troublesome costs. Thus, it is advisable to accelerate the construction progress as quickly as possible.
3.8 Construction contractor
Depending on each contractor, the factory construction price is also different. The more experienced and reputable the contractor, the higher the construction cost. However, it is worth spending on high-quality service. Therefore, choosing a prestigious contractor is the most crucial thing to decide before conducting construction.
4. The most cost-effective factory construction methods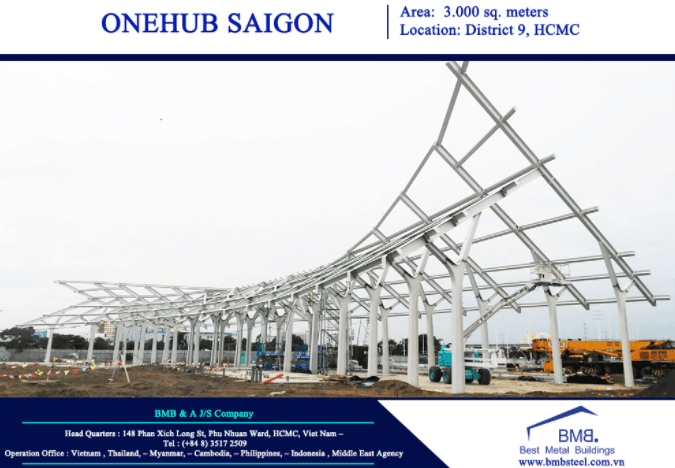 ndustrial factories are mainly used to operate the production line or for people's daily living. The frame and the covering structure are two parts that form the factory architecture.
An industrial building frame includes Foundations, columns, beams, floors, roofs, beams, windproof frames, etc. Covering structure: Roof and wall
4.1 Main Frame Structural Solutions
There are 3 solutions:
Solutions for building factories with reinforced concrete frames
Solidity, high construction efficiency

Durable
Solutions for building factories with steel frames
Possible to create a variety of solid and flexible frame

Durable material, cost-effective, easy to design
Solutions for building workshops with composite frames
The composite frame is made of steel and concrete 

The project is more stable and solid
When choosing a design solution for the mainframe structure, it should be based on the using purposes of the factory. Besides, the cost of each texture is various. The steel frame structure is still more economical because it requires less expensive, sophisticated materials.
4.2 Covering structural solutions
Another crucial part of the factory is the cover structure. It helps the factory avoid external influences such as rain, sun, thunderstorms and protect assets inside the factory.
The cover structure of a pre-engineered factory comprises::
5. Notes to optimize the factory construction cost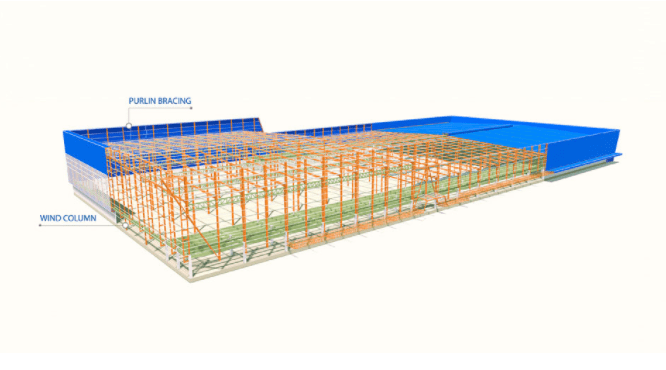 5.1 Design phase
The design must be presented clearly and in detail

Provide specific design options with a solution if problems arise

The structure must be reasonable and suitable for the terrain and construction environment to save costs
5.2 Factory construction phase
Choose a reputable contractor

Outline the specific construction phases

Designers, builders, and investors must all understand the design process

Must comply with the contract agreement
6. Construction unit price of pre-engineered steel buildings in 2021
Businesses should directly contact the construction contractor to know the factory construction unit price accurately. Companies specializing in industrial factory construction are the best places for specific advice.
With long-term experience in construction from small to large factory projects, BMB Steel's multinational company will offer some typical and fundamental unit prices in the market for your reference. Note that this information is for reference only. For further information, businesses should contact the construction company of pre-engineered industrial factories.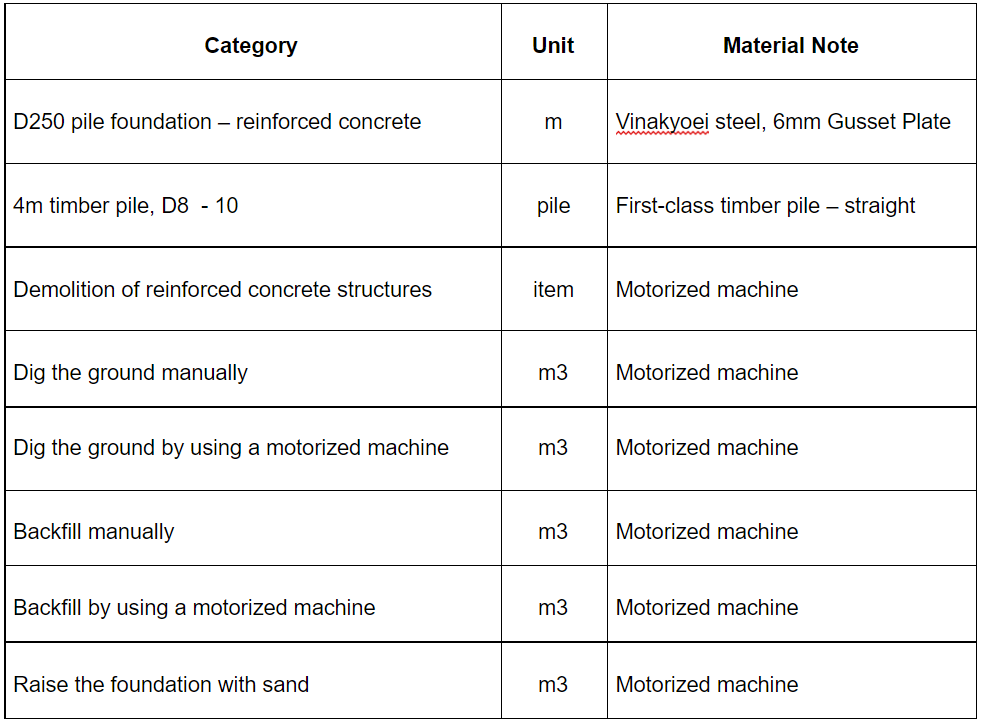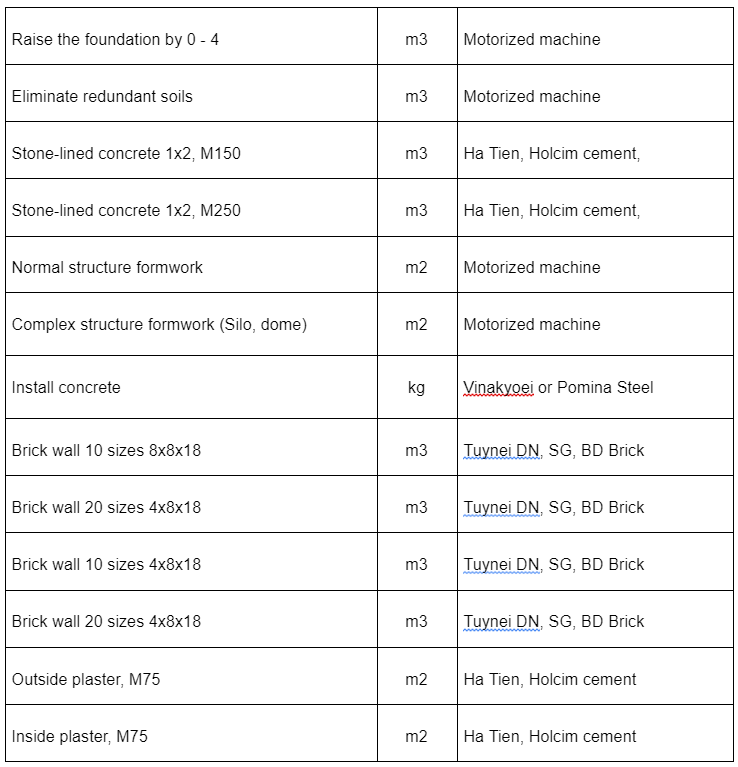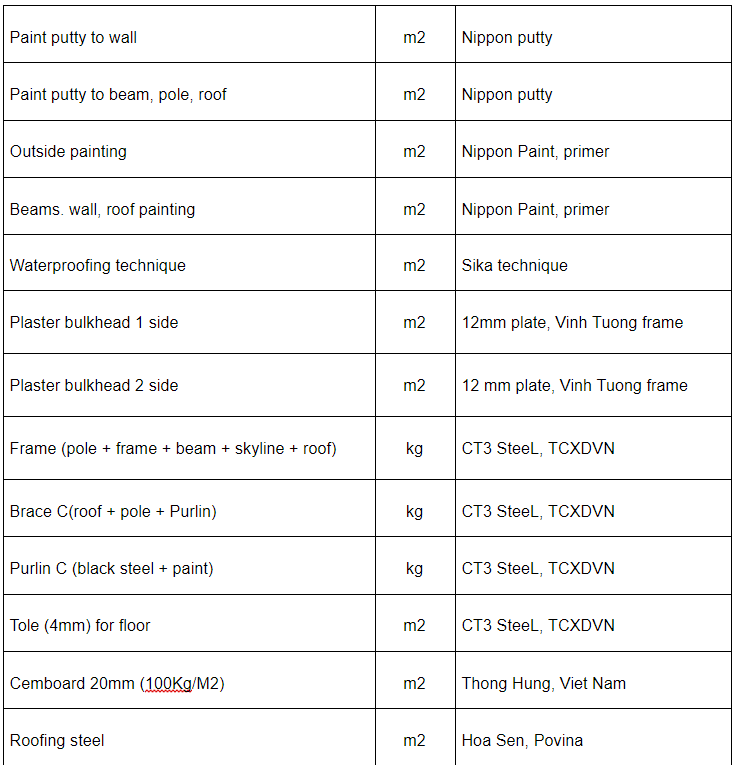 6.1 The pre-engineered steel factory unit price 
The price is from 1,500,000 VND/m2 to 3,500,000 VND/m2 depending on the area, the size of the factory, the column truss frame, and the factory floor. This is a price list of prefabricated factories from the general market.
Brief description:
Reinforced concrete factory floor, epoxy paint

The height is less than 7.5m

Combined steel columns and trusses.

50mm roof panel, wall panel, aluminum glass door

Plaster ceiling
For the factory using reinforced concrete columns, pre-engineered steel trusses, and corrugated iron roof, the construction unit price is from 2,000,000 VND/m2 to 2,800,000 VND/m2
Brief description:
The height is less than 7.5m

Reinforced concrete column

Combined steel truss with skylight

0.45m corrugated iron roof

Wall 220 with 4m high and corrugated iron doors
6.2 The unit price of simple factories and warehouses
Area: Under 1500m2; the height is less than 7.5m, steel columns or concrete columns, steel truss, 100mm wall construction, tole wall, tole roof
Without crane: From 1,200,000 VND/m2 – 1,800,000 VND/m2.
With 5 – 10 tons crane: From 1,800,000 VND/m2 – 2,500,000 VND/m2
Brief description of the project:
The height is less than 7.5m,

Wall 110 2m high, corrugated door

0.45mm one-layer corrugated iron roof

Steel truss column

Concrete foundation 15cm thick
6.3 Unit price in prefabricated houses, workshops, and warehouses (without concrete)
Price from: 350,000 VND/m2 – 1400,000/m2, purlin C thickness 1.8mm – 2mm, Iron 5×10, 6×12, Column I100 – I200 or use electric poles to reduce costs and increase product durability. Solid steel for trusses, ciphertext, bolts, screws, tension cable, 4.5zem thick tole roof.
7. Frequently questions when choosing factory construction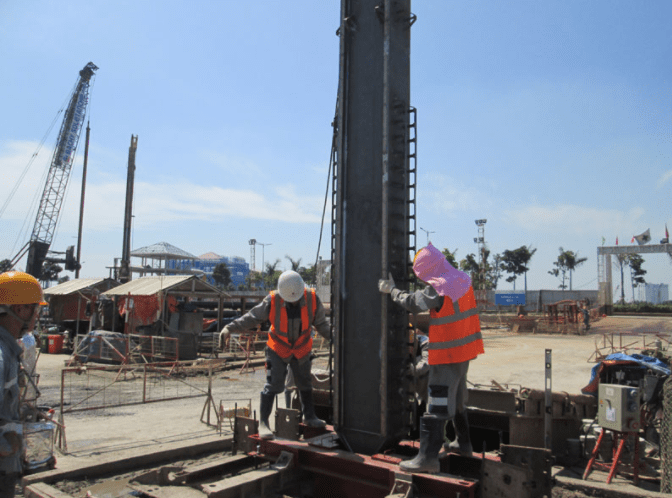 7.1 Does the pre-engineered steel frame save design time?
Accordingly, the pre-engineered steel frame is simple to process; the raw materials are only steel, which will save a lot of time for assembly and welding. Unlike reinforced concrete, which uses many mixed materials, it is time-consuming to wait for the concrete to harden.
7.2 Does it save time and costs when using pre-engineered steel frames?
Pre-engineered steel frames can save time and costs by their simple design process. The shorter the design time, the less the costs incurred.
7.3 What type of floor should be combined with a pre-engineered steel frame
For a pre-engineered steel frame factory, it should be combined with concrete floors to ensure solidity. There are concrete desk floors, super light concrete floors, and pre-assembled concrete floors.
7.4 Which projects can the pre-engineered steel frames be used for?
Pre-engineered steel frame buildings can be used as factories, companies, and offices. Pre-engineered steel frames are now also applied in factory design, garage design, supermarket basement, etc.
7.5 Should new-build houses use pre-engineered steel frames?
Currently, people are gradually simplifying the construction. Choosing a pre-engineered steel frame for a building with a sustainable foundation structure is reasonable because it remarkably saves investment time and cost.
8. Some effective 200m2 - 800m2 factory models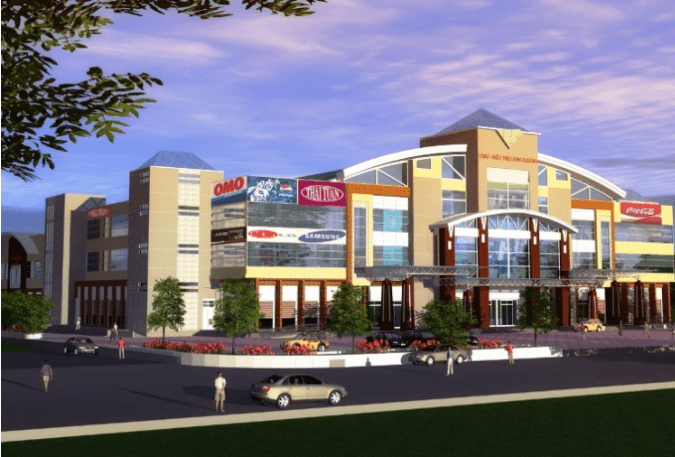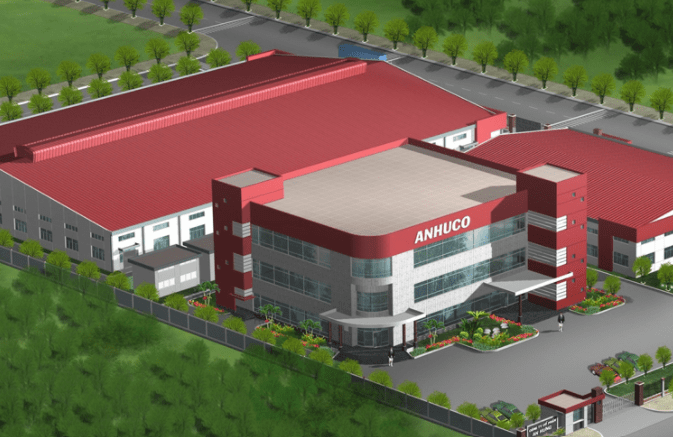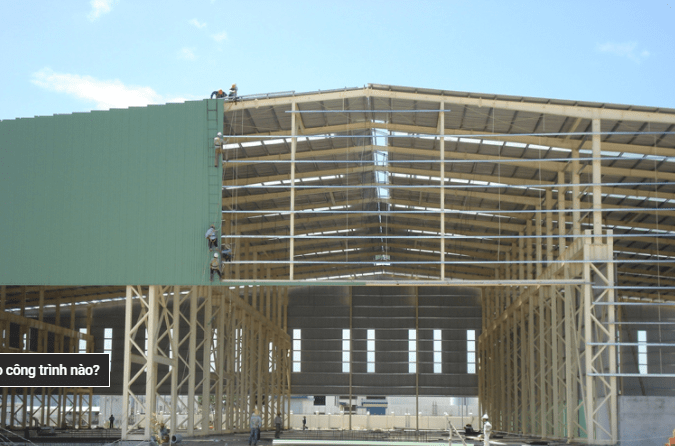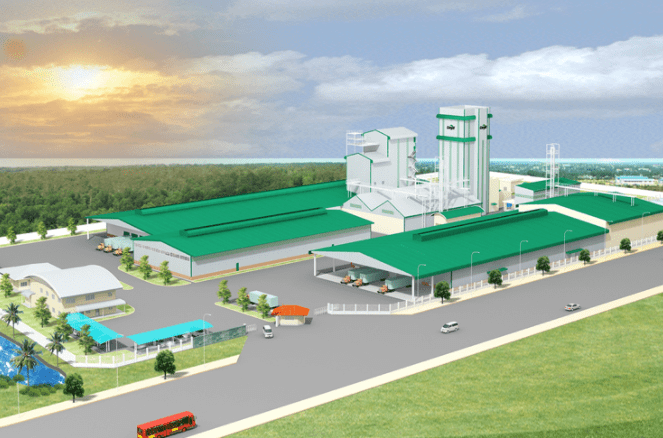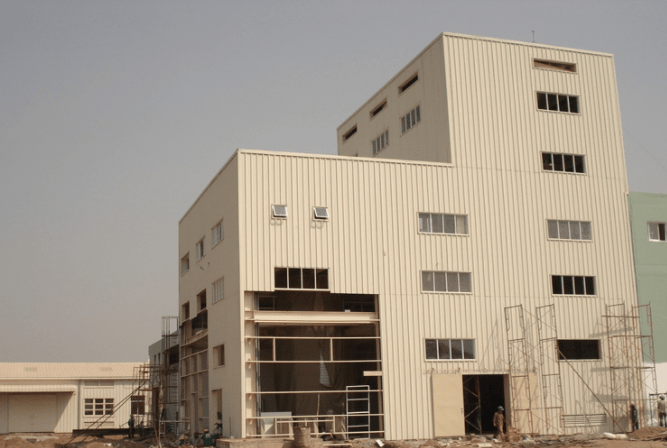 Hopefully, the above article of BMB Steel has provided you with helpful information about factory construction prices. Contact BMB Steel now for specific advice and quotation.