---
NEWSROOM
GROUND BREAKING CEREMONY NEW WAREHOUSE OF INDOTRANS - KEPPEL LOGICSTIC IN BINH DUONG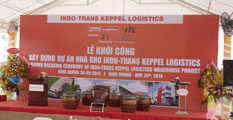 To provide total logistics services Indo-Trans Keppel Logistics Vietnam Co., Ltd (ITLK) has formed a joint venture company with ITL Group and Keppel Logistics.
ITLK has managed warehousing capacity has grown more than a total of 31,500sqm warehouse at North and South of VietNam.
On 30th May 2014, ITLK has groundbreaking the New Warehouse in Binh Duong with many attendances from the top-leader of Client, Contractor, Project Consultancy, invitation visitors. BMB Steel is proud to be a single contractor to build a new project. Our work scope is Design - Engineering - Manufacturer And Erection the Steel Buildings, which must meet the American standard's criteria.
Besides ITLK, BMB Steel had done some of the same projects as Kerry Logicstic Centre, Indotrans Logistic Center, CFS Dong Nai, ICD Song Than, ICD Cat Lai Bond-Warehouse...etc.