---
NEWSROOM
1001+ attractive 2-storey pre-engineered houses in 2021
Pre-engineered steel buildings  have been a big trend in the architectural market. The ideas of pre-engineered buildings are constantly being created and updated to serve the needs of many individuals and business organizations. In the article below, BMB Steel will introduce the top 1001+ attractive 2-storey prefab houses in 2021.
1. Why are pre-engineered buildings so attractive?
The reason why this type of building has become a trend is that it has many advantages. What makes pre-engineered buildings become such a popular constructing model? The information below may answer your questions:
Various uses of pre-engineered buildings
Pre-engineered buildings can be used for many different purposes with high effectiveness. Pre-engineered buildings can be used as warehouses and workshops for business companies. Moreover, it can be built as a company, an office, or a house. In addition, the application of pre-engineered building models is the best solution to a beautiful coffee house.
The promptitude of designing and building  pre-engineered buildings
It is not time-consuming to design a pre-engineered steel building frame. If you have a demand for building fast, this is an excellent solution to choose. In addition, fast construction design also ensures that the cost is not incurred.
Bringing value in the long run
By virtue of the fact that pre-engineered structures are erection by frames, beams, columns, and trusses, it is simple to dismantle and improve without having to demolish as usual. Moreover, the durability of pre-engineered buildings is also highly appreciated.
2. 1001+ most beautiful 2-storey pre-engineered buildings in 2021
When starting to build a project, you should consult and prepare clear and specific design ideas. Here are the top 1001+ most beautiful 2-storey pre-engineered steel building models in 2021 for your reference.
Pre-engineered factory models
The 2-storey pre-engineered factory structure is not very intricate; however, this model still shows certainty and durability. It would be ideal for building a factory with a 2-storey architecture. Thus, this large capacity is the best way to operate your business.
Building pre-engineered factories prioritize spacious areas and simple architecture to save the maximum width. Made from corrugated iron material, the roofs of pre-engineered factories preserve everything in the right conditions. You can refer to some samples of pre-engineered factories below.
Insulation is essential when designing a pre-engineered factory. Therefore, you need to combine with suitable materials to strengthen the surrounding structure of the house.
Beautiful pre-engineered coffee shop models
Designing a cafe with prefab house architecture is also been a trend recently. The 2-storey cafe has a steel frame with solid pillars that create beautiful, unique designs and attract more people to experience your service.
The harmonious color combination in pre-engineered cafe buildings is also necessary to ensure enough quality and aesthetic factors. Architects often use materials such as paint, wood, etc., to make the building more impressive.
The combined pre-engineered steel frame has two main benefits: being pillars and standing out the interwoven textures of the house. This is a typical highlight in pre-engineered building designs but is still never out of date.
Tempered glass can be used in pre-engineered buildings to make a modern, youthful and airy space. In general, these designs are very suitable for a business model or as an office area.
2-storey pre-engineered company models
Currently, companies have been catching up with the trend of pre-engineered buildings to apply to their working environment. A series of companies and offices were built with 2-storey pre-engineered steel frame designs. This is an ideal and comfortable space to work.
Pre-engineered steel building frame 
2-storey pre-engineered steel buildings are also of particular interest in the field of civil housing. The design of pre-engineered buildings is always special to create more space for living and relaxing than sophisticated and uncomfortable architectural works.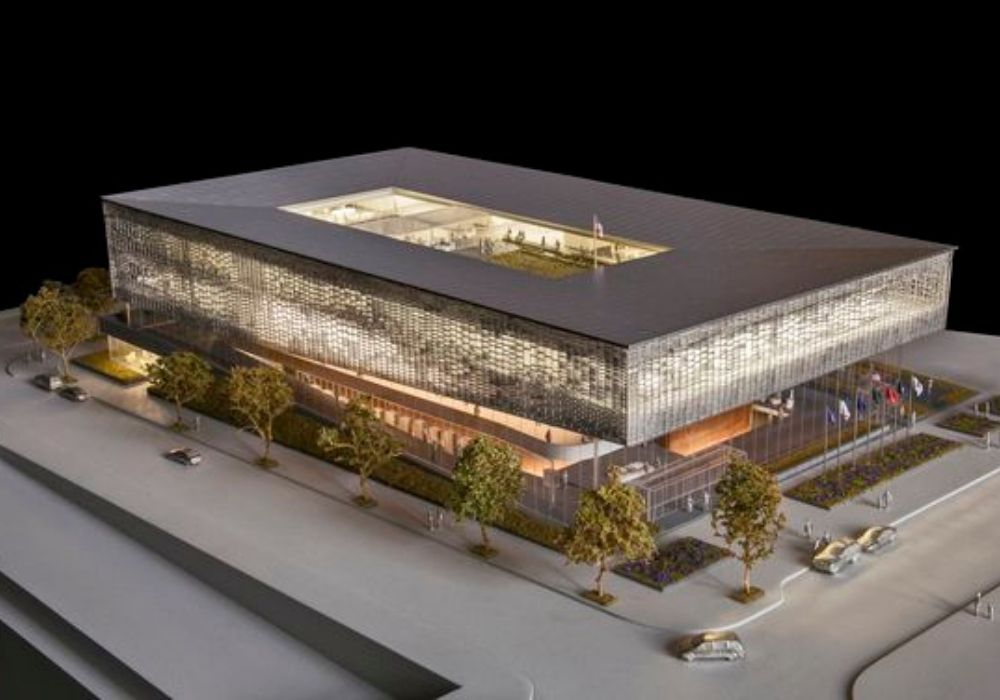 In the article above, we have compiled to send you a series of attractive 2-storey pre-engineered steel buildings that are the prevailing trend in 2021. Stay tuned in the upcoming articles to update more eye-catching pre-engineered steel building models with BMB Steel.